Turistický pochod Po památných stromech Prahy 12 s křestem publikace
V neděli 20. září 2015 se můžete vydat na pochod po památných stromech Prahy 12.
Vybrat si můžete z několika startů i délek tras. V průběhu cesty projdete i první pražskou audiostezku vedoucí po památných stromech.
V Modřanech bude pokřtěna nová publikace Památné a významné stromy Prahy 12.
Zodpovíte-li v průběhu pochodu několik soutěžních otázek, můžete v cíli knihu získat.
Hlavní start pochodu je v Modřanech u autobusové zastávky MHD Poliklinika Modřany. Na cestu zde můžete vyrazit od 9 do 11 hod. Délku si můžete zvolit buď 13 km nebo 17 km. Trasu lze zahájit i v Cholupicích před restaurací U Čámrse. Z těch je to do cíle pouhých 9 km. Třetí možností startu je středočeská obec Jesenice (zast. MHD Jesenice). Z ní jsou v nabídce trasy v délkách 17, 20, 33 km a cyklotrasa měřící 41 km. Cíl všech tras je v Komořanech.
Trasy pochodu vedou především přírodním parkem Modřanská rokle - Cholupice. Cestou můžete potkat nejen zvláště chráněná území, ale též celou řadu památných stromů. Zdejší zajímavostí je, že chráněné dřeviny spojuje naučná audiostezka. Pomocí "chytrého" mobilního telefonu se přímo na trase pochodu můžete zaposlouchat do historie jednotlivých velikánů.
Představení publikace o stromech Prahy 12
Na startu v Modřanech proběhne v 9:30 křest knihy Památné a významné stromy Prahy 12. Publikace popisuje pozoruhodné dřeviny této městské části. Texty jsou bohatě doplněny fotografiemi, a to jak současnými, tak i snímky z dřívějších let.
Pokud se zapojíte do soutěže doprovázející pochod a zodpovíte pár otázek, tak ji můžete v cíli získat. Losování vždy o několik výtisků, tam bude probíhat každou čtvrt hodinu.
Pochod připravil turistický oddíl Klubu českých turistů Turban ve spolupráci a webem prazskestromy.cz. Pochod je zařazen k akcím mezinárodní organizace pro lidový sport IVV a dostal se i do výběru mezi nejlepší turistické akce "200 turistických akcí KČT". Další informace naleznete na www.prazskestromy.cz nebo www.kct-praha-karlov-turban.webnode.cz.

Akce se koná pod záštitou radního MČ Praha 12 pana Milana Maruštíka.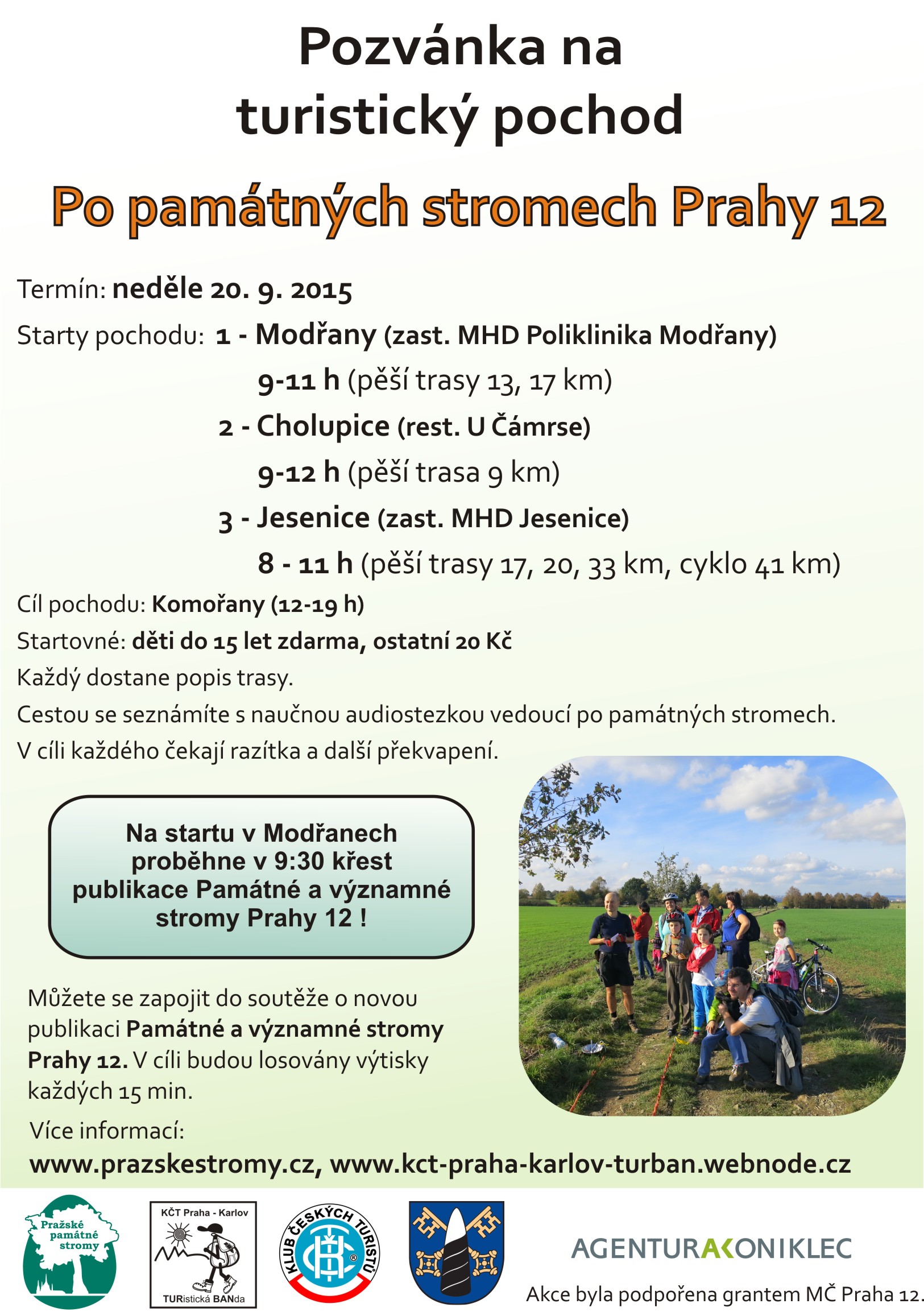 plakát ke stažení zde (pdf)
Autor: A.Rudl
Vydáno: 4.8.2015 8:47
Přečteno: 26631x
Hodnocení: 5 (hodnoceno 1x)
Vaše hodnocení:
Formát pro tisk
Novinky
Rádi si poslechnete pěknou hudbu k tématu? Tak písničky o stromech jsou tu přímo pro vás.
Znáte Lípy republiky nebo Lípy svobody v Praze? Znáte významné stromy Prahy? Pojďte se podívat na některé z nich!
Tip na originální dárek - kniha Pozoruhodné stromy Prahy
Právě vyšla kniha přibližující příběhy památných a významných stromů Prahy. Najdete v ní mnoho tipů kam vyrazit do pražské přírody vč. nejkrásnějších vycházek za pražskými stromy. Knihu můžete získat v distribuční síti knihkupectví či přes tento web. Příjemné čtení!
Uživatel
Anketa